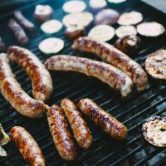 Ground Products
The following are items we offer in the ground category.
Ground Burger (80% lean)
Steak & Onion Burger
Meat loaf Burger
Country Style Sausage (Hot or Mild)
Kielbasa Style Sausage
Italian Style Sausage
Other Products
The following items are some other processes we also provide.
Cubed Steak (Blade tenderized)
Stew Meat
Ham Steaks
Product Packaging
If you choose any of the burger options, it will be packaged in 2 lb tubes ready for the freezer. Any other items will need to be repackaged once you get your meat home.